×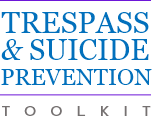 The Trespass & Suicide Prevention (TSP) Toolkit identifies effective railroad trespass prevention strategies and suicide prevention measures. The TSP Toolkit is useful for individuals who work in railroad safety and for researchers, community members, suicide prevention groups, or other individuals or organizations with an interest in preventing trespassing and suicide.
Trespassing is a complex issue that occurs for many reasons, including suicide. Selecting helpful strategies and measures can be challenging. To help with this, the TSP Toolkit provides summaries of potential strategies and measures. These summaries highlight the effectiveness of the tools as indicated through research and experience.
The TSP Toolkit allows you to easily find strategies and measures most relevant to your situation. You can enter search terms to narrow the search or filter by various factors including the incident type based on the intent of the individual, the location of the incidents, the type of strategies, or any combination of these categories. You also can look for specific types of measures.
We encourage you to send us feedback regarding the TSP Toolkit and its contents. Send an email to trespasstoolkit@dot.gov or click on the purple envelope link at the top right of the TSP Toolkit.
If you or someone you know is thinking about suicide or looking for emotional support, contact the National Suicide Prevention Lifeline. Help is available 24/7.
1-800-273-8255